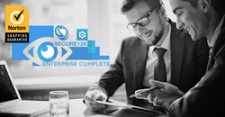 Secure128, a Symantec platinum partner, today announced the addition of two new products to its portfolio: Norton Shopping Guarantee and Symantec Complete Website Security. Both products are designed to enable organizations (ranging from small and medium businesses to large enterprise markets) to safely conduct business online.
Online, November 16, 2015 (Newswire.com) - With more than three trillion dollars per year generated via online transactions in the United States alone[1], online businesses must maintain their customers' trust and vow to keep consumers' personal data secure. This is why Secure128 is now offering the Norton Shopping Guarantee solution, powered by Symantec, to help online businesses protect their customers when making purchases online. Norton Shopping Guarantee provides customers with identity theft protection for up to $10,000; a satisfied purchase guarantee for up to $1,000; and a 30-day low price guarantee for up to $100.
Norton Shopping Guarantee adds promising and essential value to businesses that rely on high-volume, monetary transactions online.
Secure128 also now offers Symantec Complete Website Security, which includes managed PKI for SSL, a cloud-based console for managing SSL and code signing certificates, and Certificate Intelligence Center (CIC), which automates SSL certificate lifecycle management. Together, Symantec Managed PKI for SSL and Certificate Intelligence Center deliver certificate management, automation, and rules-based reporting to meet the needs of large enterprises and small to midsize businesses:

Symantec Managed PKI for SSL (MPKI for SSL) is a cloud-based console that expedites the issuance of SSL certificates for pre-approved domains. With its Ready Issuance feature, Symantec only requires one validation call for authentication, and pertinent domains are pre-approved. Once pre-approved, SSL certificates can be issued instantly on-demand.
Certificate Intelligence Center (CIC) is also cloud-based and includes two unique features: automation and reporting. The automation feature scans an organization's network environment for all SSL certificates including expiring SSL certificates, outdated SSL security attributes or incompliant certificates. With expiring SSL certificates, CIC enables the automatic renewal and installation of the certificates, eliminating the risks of manual errors and business interruptions. The reporting feature offers summaries and detailed descriptions of the security status of each SSL certificate. CIC provides discovery and continuous monitoring of all SSL certificates, Certificate Authority-issued or self-signed.
Since Symantec's Managed PKI for SSL and Certificate Intelligence Center are both cloud-based, they do not require a software or hardware installation. Capable of managing up to tens of thousands of certificates, Symantec Complete Website Security is scalable from small and medium-sized organizations to large enterprise markets.
"One of the trends that Symantec noted in the past year is that attackers are moving faster to exploit any security vulnerability," said Rob Hoblit, vice president, Website Security product management at Symantec. "The combination of Symantec Managed PKI for SSL and Certificate Intelligence Center provides a powerful integrated solution to protect server communications. Not only can enterprises easily control and manage certificate procurement and administration, they are able to deploy continuous monitoring to help ensure certificates are compliant with industry and corporate policies. Moreover, through automated renewals and transfers, they can move quickly to deliver always-on protection."
About Secure128
Secure128 is a platinum partner of the Symantec brand. Their mission is to make the internet a safer place by providing a wide range of Online Security Solutions and SSL Certificates at an affordable price. A friendly, knowledgeable staff member will assist you with finding the perfect web security solution that will accommodate the needs of any small, medium or Enterprise business.
1. "How Many US-Based Online Retail Stores Are On the Internet," Mikal Belicove, Forbes ↩
Source URL: http://prweb.com/releases/2015/11/prweb13084359.htm
Share: